Skateboarding has been around for decades, and many talented skaters have emerged. These 25 most famous skateboarders have made their mark on the sport and are known worldwide as pioneers. From Tony Hawk to Nyjah Huston, these iconic athletes set a high bar for others to follow in their footsteps.
From vert ramp masters to street skating innovators, each famous skateboarder has made an indelible mark on the sport's culture. Skaters like Tony Hawk and Rodney Mullen revolutionized aerial maneuvers, while Steve Caballero redefined what was possible with ramp riding. Today's younger skaters, such as Leticia Bufoni and Paul Rodriguez Jr, continue to push boundaries with their creativity and technical skill. All of them have blazed pathways that will influence generations of riders to come in years ahead.
Tony Hawk
Tony Hawk is so popular that if someone has ever heard of skateboarding then they must know his name. He was born in 1968; he was already showing a great talent for skateboarding by the age of nine. His career as a professional skater began at just 14 years old. Since then, he has made an impressive impact on skateboarding culture worldwide and has been credited for pushing the boundaries of what can be done on a skateboard, setting records for the highest air-time achieved, and introducing new tricks that have changed the face of competitive skating.
As well as becoming a world record holder for completing the most consecutive 900s, Tony Hawk is known for his philanthropic work with underprivileged children worldwide. Through his Tony Hawk Foundation, he works to provide access to quality public skate parks in low-income areas, allowing kids everywhere to have the chance to experience skateboarding.
Tony's impact on popular culture can't be underestimated either; from video games such as Tony Hawk Pro Skater and Birdhouse Projects Skateboarding to television appearances, he has inspired countless young people around the globe with his passion for skateboarding.
Tony Hawk has become an international icon and recognizable figure in popular culture today. His influence on skateboarding continues to endure even now – more than 30 years after his professional career first began – making him undeniably one of the 25 most famous skateboarders ever!
Rodney Mullen
Rodney Mullen is an iconic figure in skateboarding and one of the most famous skateboarders alive. He has been credited with pioneering several street skating tricks and is known for his freestyle skills. Mullen's innovative approach to skateboarding has earned him worldwide recognition, including multiple honors from the International Association of Skateboard Companies.
Mullen started as a professional skater at age 12, becoming history's youngest-ever sponsored pro skater. His technique revolutionized street skating, introducing never-before-seen tricks such as heelflips, darkslides, pressure flips, kickflips, and ollies.
As he gained more notoriety for his incredible talent, he gradually began to develop new moves, some so complex that it seemed impossible to execute them. His innovative approach to skateboarding was revolutionary and helped establish him as a legend among skaters worldwide. His ability to combine power with creativity set him apart from other pros and earned him recognition for being one of the best professional skaters ever.
In addition to being widely recognized for his technical accomplishments in skateboarding, Mullen has opened up many skateboarding-related businesses, such as World Industries and Black Box Distribution. In the 1980s, Mullen pioneered a new style of skateboarding by combining freestyle and technical skateboarding. He created many tricks considered too difficult for most skaters to perform.
Bam Margera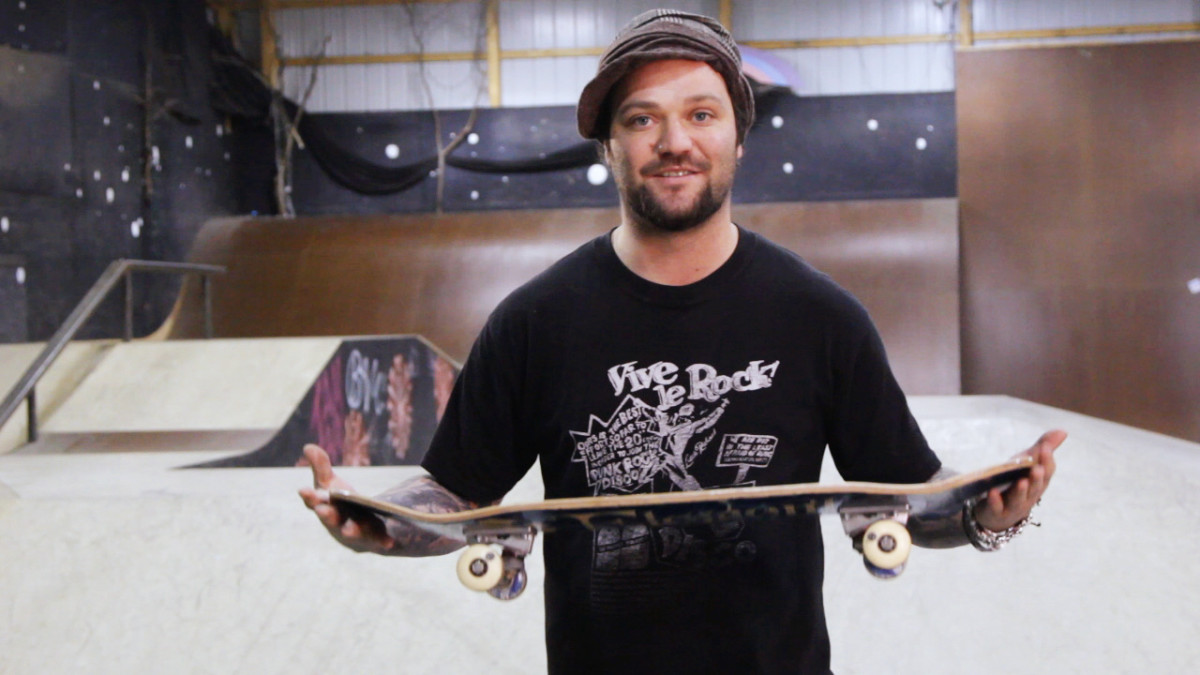 Bam Margera is one of the most famous skateboarders in the world. His unique approach to skateboarding has been revolutionary and has inspired a new generation of skaters. He's known for his wild style, fearless attitude, and ability to take risks which have set him apart from other skaters. Born Brandon Cole Margera in 1979, he began skating early and eventually helped form the high-profile CKY Crew. His career skyrocketed after appearing on MTV's Jackass series, which exposed his talent for taking risks and quickly earned him celebrity status. Since then, he's starred in numerous skateboarding films, including Haggard: The Movie, Number Two, and Minghags: The Movie alongside fellow skater Ryan Dunn.
Nyjah Huston
Nyjah Huston is one of the most famous skateboarders in the world. The American-born pro-Skater is a masterful technician on the board and a world record holder for having won more prize money than any other professional skateboarder in history.
Huston began skating at an early age and has since won gold medals at X Games events across multiple disciplines and numerous Street League Skateboarding competitions around the globe. His skills earned him endorsement deals with some of the biggest names in skateboarding, such as Nike SB and Element Skateboards. In 2017, he was named Transworld Skateboarding's "Skater of the Year," – cementing his status as one of modern skateboarding's biggest stars.
Paul Rodriguez Jr.
Paul Rodriguez Jr. is one of the most famous skateboarders in the world. The American professional street skateboarder was born in Tarzana, California, and has been skating for almost two decades. He is well known for his incredible skills, technical tricks, and innovative approach to street skating.
He met future professional skateboarder Ed Templeton at West Campus High School in Riverside, California. A native of Perris, California, Rodriguez Jr. was initially inspired by professional skateboarders like Christian Hosoi and Steve Caballero and began skating at four.
In addition to being a renowned pro-skater, Paul Rodriguez Jr. has an impressive list of sponsors, including Nike SB, Plan B Skateboards, Mountain Dew, Spitfire Wheels, and Matix Clothing. With such prominent support from industry leaders, he has made a name for himself within the skating community and beyond. Rodriguez Jr. has earned critical acclaim for his performance in the 2007 full-length skateboarding film, "Pretty Sweet," featuring a cameo appearance from professional skateboarder Tony Hawk.
Daewon Song
Daewon Song is one of the world's most famous and influential skateboarders. He has been a professional skater since 1994, and his career has spanned over two decades. His unique skating style has made Daewon an icon in modern skateboarding culture, inspiring countless others to pick up their boards and follow in his footsteps.
Born in Seoul, South Korea, in 1975, Song moved to California with his family at seven. By thirteen, he was already sponsored by a local skate shop and eventually became one of the founding members of World Industries Skateboards. Despite numerous injuries throughout his career, Daewon continued to push boundaries with new tricks and innovative ideas for board design that have kept him at the top of the industry for years. His latest venture, Almost Skateboards, is a testament to Song's commitment to creating the best products for today's skateboarding.
Chris Cole
Chris Cole is an American professional skateboarder widely regarded as one of the most influential skaters ever. A five-time X Games gold medalist, he is best known for his technical street style and progressive tricks, which have gained him a cult following in the skateboarding community.
With an impressive list of accomplishments, Chris Cole has become one of the most celebrated figures in modern skateboarding. He has won numerous competitions worldwide and appeared in iconic videos such as The DC Video, Alien Workshop Mindfield, and Transworld Skateboarding's Sight Unseen. In 2016, he was inducted into the Skateboarding Hall Of Fame for his outstanding career and contribution to the sport. His success has extended beyond skating to include multiple shoe designs with DC Shoes and other sponsorships from major brands, including Vans and Nike SB.
Alex Sorgente
Alex Sorgente is one of the most recognizable names in modern skateboarding. Since entering the professional skating scene in 2003, Alex has become an icon for young skaters worldwide. His dynamic style, and unique bag of tricks, have earned him multiple competition victories and sponsorship deals.
At only 25 years old, Alex has been featured on the covers of numerous skateboard magazines, including Transworld Skateboarding and The Skateboard Mag. In addition to his work as a pro skater, he's also been very active in promoting early childhood education, specifically teaching kids about skateboarding safety and proper technique. He was recently invited to be a guest speaker at the 2017 United Nations International Children's Day Forum. In recognition of his work, Alex was also named the 2016 recipient of the prestigious Skater of the Year Award by Transworld Skateboarding Magazine. He also received a Gold Medal for Best Trick at X Games Austin. Alex has worked on two video games, the Tony Hawk series and Ride. In addition to his skateboarding career, Alex also enjoys snowboarding and surfing.
Andrew Reynolds
Andrew Reynolds is a professional skateboarder and entrepreneur widely regarded as one of the most influential personalities in the skateboarding world. Andrew's innovative tricks and iconic style propelled the sport into mainstream culture. His career began when he was just 15 years old and has since grown to include dozens of awards, including Thrasher Magazine's Skater of the Year award in 2002. Today, he continues to ride professionally while running multiple businesses related to skateboarding, such as Baker Skateboards and Altamont Apparel.
Andrew has established himself as one of the most renowned skaters and serves as a role model for many aspiring young skaters around the globe.
Leticia Bufoni
In professional skateboarding, no one is more iconic than Leticia Bufoni. A Brazilian-born pro skateboarder, Bufoni began skating in her homeland at the age of nine and was soon competing in contests in Brazil and around the world. She won multiple titles at X Games events, including six gold medals, and was named X Games Skateboarder of the Year in 2013. Her influence on the sport has been immense; she's inspired young skaters to reach for their goals and become successful athletes.
Her accomplishments have earned her a spot on Transworld Skateboarding's prestigious list of 25 Most Famous Skateboarders for four consecutive years running.
Her success isn't just limited to her skill on the board – Bufoni has also made an impact off it by becoming a staple in mainstream media with appearances on popular television shows such as "The Tonight Show" and "Ellen. "
Tom Schaar
Tom Schaar is an American professional skateboarder who has taken the skating world by storm with his incredible and awe-inspiring tricks. At just 21 years of age, Tom has already accomplished more than most skaters can dream of and is easily one of the most famous skateboarders in the world today. His signature style and fearless attitude have earned him accolades from fans and professionals, cementing his place as a true legend in the skateboarding community.
With accomplishments such as becoming the first person to ever land 1080 on a halfpipe, which he pulled off at X Games 2012 making him the first person to land three consecutive rotations in midair while riding a skateboard ramp.
Winning multiple X-Games gold medals and appearing in some of the biggest competitions around the globe, it's no wonder why Tom Schaar is among the 25 Most Famous Skateboarders today.
Aaron Homoki
Aaron Homoki, also known as "Jaws," is a professional skateboarder and one of the 25 most famous skateboarders in the world today. Born in Phoenix, Arizona, in 1988, Aaron began skateboarding at 13 and has since become an icon in the sport. He made his mark on the professional scene when he was just 17 years old and became sponsored by Etnies Skate Shoes. Since then, he has become a widely-recognized figure across both amateur and professional levels of skateboarding.
His aggressive and stylish approach to skating has earned him titles at some of the most significant events in skateboarding histories, such as X Games, Street League Skateboarding (SLS), and Tampa Pro. Additionally, he was awarded Transworld Skateboarding's "Reader's Choice" award for his 2017 video part, "JAWS."
Aaron's unique skill and style have taken him worldwide to places such as Russia, Australia, Japan, and South Africa, where his stunts have been documented for various videos and documentaries.
Curren Caples
Curren Caples is one of the most famous skateboarders in the world today. Born and raised in Ventura, California, Curren has been skateboarding since he was a young boy. Starting as an amateur skater, he quickly became a professional and established himself as one of the best skateboarders in the business.
His signature skating style earned him several prestigious accolades, including winning both X Games gold in 2013 for Best Trick and Street Contest. He also won the Tampa Pro Street Skateboarding competition in 2017. He remains dedicated to ensuring his hometown of Ventura remains an essential hub for skateboarders everywhere, encouraging people from all backgrounds to embrace this unique art form.
Current is also well known for his creative approach to tricks and stunts, often combining elements from different disciplines, such as surfing and snowboarding, into his moves.
Lizzie Armanto
Lizzie Armanto is a world-renowned skater who has been carving out her space in the skateboarding industry since she was a teenager. At just 28 years old, Lizzie is one of the planet's most successful and recognizable female professional skateboarders. Born and raised in Santa Monica, California, Lizzie has been skating for almost as long as she can remember and quickly rose to become one of the top female skaters in the world.
In addition to being an impressive athlete, Lizzie is an outspoken advocate for women's rights in skateboarding. She co-founded Skate Like A Girl LA with her friend Corinne Pasela in 2016, seeking to empower more women to participate in skate culture through camps, events, and outreach programs.
Ryan Sheckler
Born and raised in San Clemente, California, Ryan started as a professional skateboarder when he was just 13 years old when he signed up for Almost Skateboards. In 2004, he joined Plan B Skateboards and quickly became one of the most well-known skateboarders on the planet due to his wild stunts and tricks. He is now a three-time X Games gold medalist, two-time Dew tour champion, and an MTV reality show star.
Sheckler's popularity grew following appearances on MTV's Life Of Ryan series, showcasing his personal life, including how he balances being a professional athlete while attending high school. He has also won several awards, including Male Athlete of The Year from Action Sports Awards held by ESPN in 2006 and 2007.
Sheckler has become an icon in skateboarding because of his creative style and fearless attitude while on board. He has also appeared on shows such as Entourage and Last Call with Carson Daly, where he shared his incredible talent with millions of viewers worldwide. Ryan is known for pushing boundaries and inspires other young skaters to try their hardest to reach new heights every time they step onto their boards.
Steve Caballero
Steve Caballero was born in 1964, Steve's career spans over four decades, and he has been a significant contributor to the development of modern skateboarding. During that time, he became an iconic figure within the skateboarding community and significantly influenced other generations of skaters. He began his career with Powell Peralta in 1982; he was a founding member of the legendary Bones Brigade team and released some of the best-selling skate videos ever made.
Steve has been a professional rider since then and is still active today, mainly skating street spots around California and performing demos for companies such as Vans or Converse. His signature shoes with Vans were trendy because of their unique style and design that pays homage to his heritage as a skater.
His signature tricks are the cab flip (a handplant to fakie) and the 900, now considered one of the hardest in skateboarding history, which he invented.
Known affectionately as 'The Master Of The Impossible,' Steve Caballero has earned his place at the top of any list featuring famous skateboarders. He was featured on multiple magazine covers while competing professionally during the early 80s. He even appeared in popular movies such as Gleaming The Cube, where he shared screen time alongside star Christian Slater.
Bob Burnquist
Bob Burnquist is a Brazilian-American athlete who has been a professional skateboarder since 1992 and has won several prestigious awards. He is renowned for his big air stunts and technical ability on vert ramps.
Burnquist has won 14 X Games gold medals and eight silver and eight bronze medals, making him one of the most decorated skateboarders in X Games history. He was also featured in Tony Hawk's Pro Skater video game series from 1999 to 2002, solidifying his status as an iconic figure in skateboarding culture. In 2003, he became the first person ever to land a 900-degree spin on a halfpipe ramp, an accomplishment that earned him worldwide recognition.
He was even featured on the cover of Transworld Skateboarding Magazine in 1997, which helped him become an international celebrity.
Burnquist is known for his innovative techniques, such as his nollie heelflip indy, one-foot pivot fakie, and other tricks. Bob Burnquist was inducted into the Skateboarding Hall Of Fame in 2019 for his contributions to skateboarding culture.
Bucky La
Bucky La first became interested in skateboarding when he was ten and hailed from North Hollywood, California. He quickly gained notoriety for his technical style and has since appeared in numerous videos, commercials, and magazines and won several competitions. He's also known for being involved in various charities throughout Southern California. Today, Bucky La continues to be one of the top names in skateboarding, with fans all over the globe who admire his ability and style on a board.
Pedro Barros
Pedro Barroz is a native Brazilian skateboarder, widely considered one of the industry's most influential and highly respected skaters. His career began when he was just a kid, at age 12, after winning his first major competition. Since then, he has been at the top of his game, consistently pushing boundaries and setting new standards for what's possible on a skateboard. Barros has taken home X Games gold medals in Street and Park competitions. Pedro's incredible power and speed make him an absolute force to be reckoned with on any terrain; street, park, or vert. There's barely a trick that Pedro can't do!
He is also known for competing at some of the most challenging courses in professional skating, where he continues to challenge himself and other competitors each time he takes to the ramp. With fans across Europe, North America, and South America supporting him every step of the way, Pedro Barros is firmly established as one of the greatest skaters around today.
Shane O'Neill
Shane O'Neill is an Australian-born professional skateboarder and part of the elite group of the 25 most famous skateboarders in the world. He was born in Melbourne, Australia, in 1989 and began skating at a young age. His natural skill and drive quickly earned him recognition among his peers, eventually leading to his sponsorship by major global brands such as Nike SB and Monster Energy.
O'Neill has gained worldwide fame for his technical skateboarding style and inspiring creativity. His tricks have become staples for many aspiring professional skateboarders out there today. Additionally, he has been recognized for being one of the few professional skaters to transition from street skating to more vert-type terrain during competitions. This set him apart from competitors and made him stand out with judges worldwide.
Grant Taylor
In 2011, he was the first to be inducted into Thrasher Magazine's Skateboarding Hall of Fame. Taylor has been a professional skateboarder since 2001, and his career has spanned several decades. He is known for his unique style and dynamic tricks, making him a fan favorite among skateboarding lovers all around the globe.
Taylor started as a street skater and quickly became one of the top skaters on the scene. His ability to develop new tricks and push boundaries earned him recognition in skateboarding magazines. He also gained notoriety for his videos documenting his travels through North America, Europe, Asia, South America, Australia, and New Zealand, where he showcased his skills at some of the best spots worldwide.
Elissa Steamer
Elissa Steamer is a household name among skateboarders and fans of extreme sports. She was the first female professional skateboarder and has been at the top of her game since she began in the mid-1990s. Her trick-mastery, fearless attitude, and groundbreaking achievements have earned her a spot as one of the most famous professional skateboarders in history.
Steamer became an instant sensation when she won Thrasher Magazine's Skater of the Year award in 1999, becoming the first woman to do so. Since then, she has become one of only five women ever inducted into the prestigious Skateboarding Hall Of Fame. She also starred in multiple video games and films related to skateboarding, including Tony Hawk's Pro Skater 3, Tony Hawk's Underground 2 Remix, and Lords Of Dogtown.
Tyshawn Jones
Tyshawn Jones is a professional skateboarder from New York City who has impressed the global skateboarding community. At only 21 years old, Jones is already one of the most renowned and recognizable names in the sport.
Jones first gained notoriety when he won Thrasher's 2015 Skater of The Year award at just 15 years of age, making him one of the youngest to receive such a prestigious honor. Since then, Jones has become one of the most sought-after skaters worldwide for his signature style and fearless approach to skating significant gaps and rails, as seen in his multiple video parts with Adidas Skateboarding "Away Days" and Quasi's "Mother." His accomplishments have landed him numerous sponsorships with brands like Vans and Supreme, which have helped establish his fame within streetwear culture and beyond.
Eric Koston
Eric Koston has been for over two decades. He's a professional skateboarder, entrepreneur, and designer with legendary status in his sport. Born in Bangkok, Thailand, on April 29th, 1975, Koston emigrated to California at a young age. His first experience with riding was at the local park when he received his first skateboard as a gift from an uncle.
Koston quickly developed an interest and passion for the sport, leading him to become a sponsored amateur rider by age 14. He gained recognition through his appearance in videos such as Mouse (1995), Yeah Right! (2003), and Fully Flared (2007).
Guy Mariano
Guy Mariano is one of the most iconic skateboarders of all time. He's been an influential figure in the sport for over two decades, and his influence can still be felt today. Mariano made a name for himself in the early 1990s when he emerged as a top competitor on the professional skateboarding circuit. His unique style and creativity have made him one of the most respected skaters in history.
Mariano gained recognition in 1992 after appearing in Blind Skateboards' video 'Video Days.' Since then, his influence on modern skateboarding can be seen through his sponsorship with Girl Skateboards and his highly acclaimed pro model boards for Chocolate Skateboards. His technical prowess is widely appreciated by tricksters and skaters alike, as he was among the first to successfully land switch tricks such as kickflips and heelflips down giant sets of stairs or rails.
The Botton Line
The skateboarding community has seen a significant transformation in the past few decades. Starting as an underground activity, skateboarding has become more popular and mainstream, introducing some of the world's most famous skaters.
This article has presented 25 of the most well-known skateboarders from around the globe—each with its unique style and accomplishments.
From Tony Hawk to Nyjah Huston, each Skater has left their mark on the sport while inspiring others to take up a board and try it.
Whether you are just starting or have been skating for years, take a page from their books and keep pushing yourself to reach your goals.
As long as you stay determined and passionate, there's no telling what great things you can do!